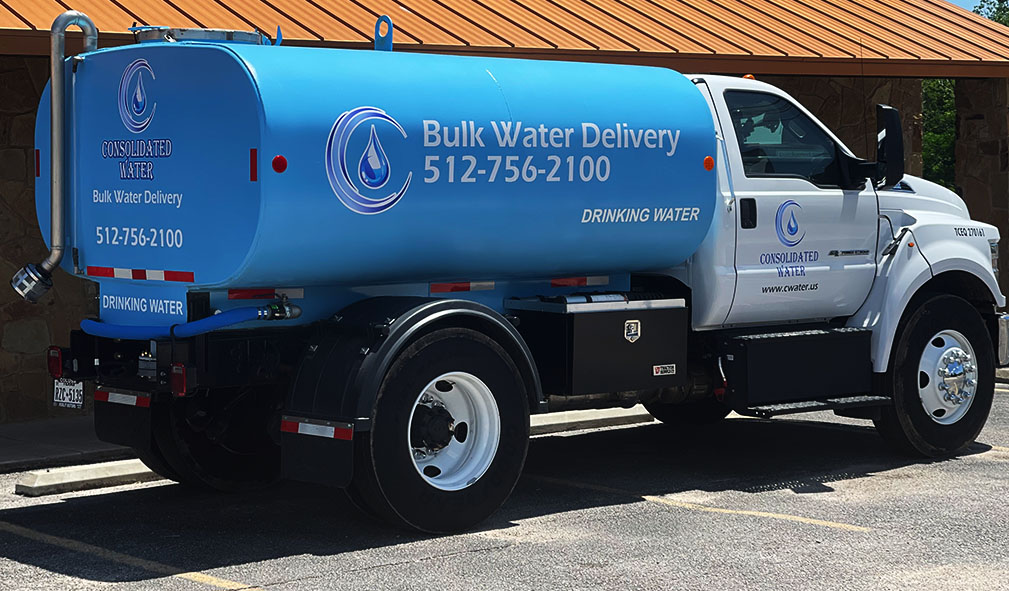 Consolidated Water now offers bulk water delivery service. We can deliver up to 2,000 gallons of potable water per load. It can be used to fill cisterns, swimming pools, bulk water containers, etc.
Our water is municipal water that has been treated by the city. We only use potable water (drinkable) and we double check to make sure it is up to TCEQ standards before we deliver it to you. Our license number is TCEQ # 0270161
Depending on the time we receive your order, water can be delivered the same day in many instances. Otherwise your bulk water delivery is the next day.
From our office located in Burnet, we service a wide array of areas throughout the Central Texas Hill Country and Highland Lakes. Our bulk water delivery service area includes, Burnet County, Williamson County, Llano County, as well as other counties in Central Texas.  Systems, Filters, Repairs, Maintenance or Bulk Water – we deliver! We also service many towns and cities in Central Texas that include but are not limited to:
• Bertram
• Burnet
• Horseshoe Bay
• Marble Falls 
• Llano
• Lampasas
• Leander
• Cedar Park
• Kingsland
• Liberty Hill
• Granite Shoals
• Highland Lakes
For Central Texas and the Highland Lakes, or the Texas Hill Country, Contact Consolidated Water based in Burnet, TX for all your Bulk Water Delivery requirements.
Contact us today for a consultation on how we can help you resolve your water issues!
---
Call us at (512) 756-2100 or Email Us and schedule a consultation today!