Granite Shoals Water Softeners
Granite Shoals Water Softeners
Granite Shoals water softeners & treatment systems

The negative effects of hard water can wreak havoc on your daily life. If you have hard water in your home or office, you know that it can cause more harm than good. Hard water can lead to the following disadvantages:
Spotting on silverware, dishware, glassware and plumbing fixtures
Expensive utility bills
Unhealthy skin and hair
Shorten life expectancy of water based appliances
Shortened life expectancy of clothes
Consolidated Water nows offers Bulk Water delivery services for up to 2,000 gallons per load. Our water is potable and can be used to fill cisterns, swimming pools, bulk water containers, etc.
– We can carry up to 2000 gallons per load
– we can fill cisterns, swimming pools, rainwater collection systems, bulk water containers, ect.
-we can deliver water for new construction of septic systems, rainwater collection, ect.
Consolidated Water can help you resolve any water quality challenges you have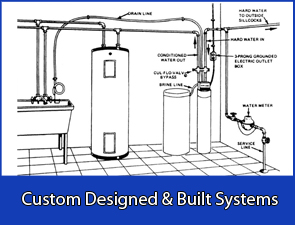 While the effects of hard water are not pleasant, they can easily be resolved with a wide array of water treatment systems that are specifically designed to improve water quality.
At Consolidated Water, we provide Central Texas residents with the most efficient and reliable water softeners,  filtration, and treatment systems. Many of our clients prefer our water softeners because they are customized to fit the needs of their home or office.
We don't use off-the-shelf softener systems that you typically find in large home improvement stores. Instead, we select the best equipment based on your needs and build and install custom water softeners and water treatment systems that are designed to help you improve your water quality issues. Our main goal is to provide you with a highly functioning system, while keeping your cost low, and providing you with good quality customer service.
Discover the many benefits of having one of our Granite Shoals water softeners installed in your home or office
When you have skilled and experienced water installation specialists resolve your water quality issues, you can experience the following benefits:
Spotless glassware, dishware, and plumbing fixtures
Extended life expectancy of water based appliances
Reduction in utility bills
Healthier skin and hair
Quality water
Good flow rate
In addition to providing Central Texas residents with water softeners, we also provide them with water filtration systems that can remove iron, bacteria, and hydrogen sulfide (that rotten egg smell). The systems we use for this process include:
We can help you with a wide array of water quality issues in Granite Shoals
As TCEQ specialists and a member of the Texas Water Quality Association, we are not limited to building and installing systems for your home or office. We also have the ability to resolve water quality issues with well water, lake water, municipal/community water, and any type of low quality or problem water issues you may have.
Granite Shoals water softeners and installation service provided throughout Central Texas
While we service homes and offices in Granite Shoals, we also build and install water treatment systems throughout Central Texas & the hill country in many different towns, cities, and counties. These include the following: Burnet County, Llano County, Williamson County, and many other counties. The cities and towns we service include the following:
‣ Bertram
‣ Cedar Park
‣ Granite Shoals
‣ Highland Lakes
‣ Kingsland
‣ Leander
‣ Liberty Hills
Discover why many Granite Shoals residents prefer Consolidated Water!
Whether you need a customized water softener, water filtration system, water purification system, or any type of water treatment, you can feel confident that Consolidated Water can get the job done. We provide you with excellent customer service, and a high quality, fully functioning treatment system you can afford. Give us a call and request a consultation to discover how we can help resolve your water quality issues today!
---
Call us at (512) 756-2100 or Email Us and schedule a consultation today!